Enjoy your visit to Los Angeles by seeing the many exciting locations, historical landmarks and scenic views and join us on a Los Angeles tour tailored to your travel interests.  Whether it be the glitz of Hollywood, the elegance of Beverly Hills, movie star homes both past and present or the natural beauty of the Southern California coastline, LAdventure Tour is at your service.  We offer various tour packages that are grouped as two, three or four hour tours, while taking you there in comfort and style by a luxury vehicle while answering all your questions and telling you everything you need to know.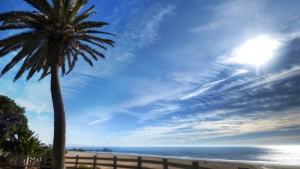 The Los Angeles tours we offer are merely guidelines and you are free to make any changes you'd like to create a personalized tour that will best suit your travel desires.  After all, we are a private company and at your service to show you what Southern California offers in a way that you are most comfortable with.  Even if you are a regular visitor to the city we're sure we can offer you a view of the "City of Angels" from a whole new perspective.
Our suggested tour packages are presented to you in a way that will best suit your time frame and travel interests.
Los Angeles Luxury Tours
LAdventure Tour provides an impeccable touring experience in the city of glitz and glamour. We offer luxury tours to the most popular and exciting areas of Los Angeles in hourly packages. Whether it be the Sunset Strip or the jaw-dropping sceneries of the Hollywood Hills, we will let you explore the sights in comfort and luxury. Our suggested tour packages are presented to you in a way that will best suit your time frame and travel interests.
Two Hours – Let us take you on a two-hour Los Angeles luxury tour where even in a more limited time you'll still be able to experience so much of the best that Los Angeles has to offer while taking home plenty of memories. (And pictures too). We'll take you along Hollywood Boulevard and its many world famous landmarks to the Sunset Strip where the stars like to party.  Let's go into the famous 90210 area code and see where some of today's famous celebrities live like Leonardo DiCaprio, Keanu Reeves, Sofia Vergara, David Beckham, Justin Bieber, Halle Berry, Simon Cowell, Taylor Swift and more.  The Beverly Hills Hotel, with all its history probably the most famous celebrity hotel in the world. Rodeo Drive, where the stars shop with stores like Gucci, Prada, Valentino, and Armani as well as Bijan, the "world's most expensive store" and access by appointment only. The mansion where King of Pop Michael Jackson lived before passing away in June 2012 as well as the Playboy Mansion, former home to Hugh Hefner for five decades. The houses featured in the movies Halloween and Nightmare On Elm Street and the restaurant where Brad Pitt was "discovered" while handing out flyers in a chicken costume in 1986. Visit what used to be the Charlie Chaplin Studios which still looks today exactly as it did 100 years ago.
Three Hours – This is our most popular Los Angeles tour.  Get your picture taken with the iconic Hollywood Sign. Each letter stands at 45 ft high and dates back to 1923. Cruise a mile along Hollywood Boulevard and its Walk of Fame which will include the Roosevelt Hotel, home to the first Academy Awards ceremony in 1929 and the new Hollywood & Highland Center, which opened in 2001 and includes the Dolby Theatre, home to today's Academy Awards ceremony. We'll head to Hollywood & Vine, the old heart of Hollywood and home to Capitol Records, a Hollywood landmark, as well as Musso & Frank's, Hollywood's oldest restaurant and serving since 1919.  There's the Pretty Woman motel, where Richard Gear carried Julia Roberts down those stairs.  We can drive along the Sunset Strip with all its clubs and hotels, where Lyndsey Lohan refused to pay a $46,000 tab and was banned, Frank Sinatra punched a reporter and said it was the "best money he ever spent" and rock groups like Led Zeppelin and the Rolling Stones were driving motorcycles in hotel corridors.  Take a look at the locations of celebrity death scenes like Michael Jackson, Janis Joplin, Bugsy Siegel and the Manson Family murders. See where the celebrities stay, like the Beverly Hills Hotel and the Beverly Wilshire as well as the brand-new Waldorf Astoria. Rodeo Drive in the heart of Beverly Hills offers some of the most expensive shopping in the world but this is one place where you'll see more people with cameras than shopping bags.  Roxbury Drive offers a brief look at old Hollywood and how the stars used to live.  Lucille Ball, Peter Falk, and James Stewart had homes somewhat smaller to some of today's mega mansions. Nearby Bel Air is home to Jennifer Aniston, Jennifer Lopez, and the most expensive property listing with a mansion (including helicopter pad) valued at $250 million.
Four Hours – If time is available to you we can suggest a four-hour tour that includes Hollywood Boulevard, home of the Dolby Theatre and the Academy Awards, the historic Roosevelt Hotel where the first Academy Awards were presented in 1929 in addition to the Chinese Theatre with its many movie star handprints and footprints. You will also see the Capitol Records building, probably familiar to you from the big screen as well as the small and where Frank Sinatra recorded many of his classics in addition to many other leading artists from decades gone by. Nearby Sunset Boulevard and the Sunset Strip is home to many clubs, hotels and celebrity hangouts and we'll tell you all the stories and the history behind them all. The stars live on the hills above and we'll take you right there where you'll be able to see their houses and mansions, often with some beautiful scenic views below. If you want to see where the celebrities shop we'll take you to Rodeo Drive, the shopping street of the rich and famous in Beverly Hills. We can stop by infamous death locations like Bugsy Siegel's house where he was shot and killed in 1947, the scene of the Manson Family murders in 1969, the hotel where John Belushi died of an overdose in 1982 and the hotel in Beverly Hills where Whitney Huston passed away in 2012. Also, the mansion in Holmby Hills where pop icon Michael Jackson died in 2009. Then let's take a drive up the windy canyon roads to Mulholland Drive, one of the most scenic roads in the United States and home to many of the stars of today and yesteryear, like Adam Levine, Justin Timberlake, Jack Nicholson, and Marlon Brando. If your photographs on Mulholland Drive aren't enough for you, let's snap some more under the iconic Hollywood sign, familiar to millions all over the world. This tour includes all the sights for one to be able to say they have "seen everything" after visiting the City of Angels.
Los Angeles Private Tours
Many of our guests want to see the beautiful Southern California coastline along the Santa Monica and Malibu beaches as well as experiencing the movie history of Hollywood while taking in some very prominent movie star homes. We'll drive along Sunset Boulevard and see the many locations that make this street one of the most famous roads in the world. We'll take you through the glitz of the Sunset Strip through to Beverly Hills with its many historical landmarks along the way like the Chateau Marmont and the Beverly Hills Hotel. See where and how many of today's (and yesterday's) stars live from Leonardo DiCaprio and Taylor Swift to Lucille ball and Jimmy Stewart. Sunset Boulevard will then take us all the way to the Pacific Ocean and after a cruise along the very pristine Pacific Coast Highway that runs along the Southern California coastline we can stop for some fresh seafood at a beachside cafe. We have a couple of Los Angeles Tour's favorites to choose from or, of course, you can pick one yourself.
A very interesting (and certainly very different) three-hour private tour includes a flight over the Los Angeles area. Why not see Los Angeles both from the ground and the air? We can get you up in the sky over Southern California on a Cessna light aircraft on a 30-minute trip where we can fly you out over the beautiful Southern California coastline. After looking down at the beautiful beaches of Santa Monica and Malibu we'll then fly over Beverly Hills and Hollywood from a height of 500ft. Then onto Dodger Stadium and over the skyscrapers of downtown Los Angeles before turning around and heading back to Santa Monica airport. After we get back on the ground we'll travel through Beverly Hills and the world famous 90210 zip code of the rich and famous. See the many breathtaking and majestic celebrity houses and mansions, the historic Beverly Hills Hotel, and Rodeo Drive, probably the most expensive street in the world. Cruise the Sunset Strip with its world-famous clubs and hotels, each one telling a different story. Visit the heart of Hollywood and the Hollywood Bowl, historic venue for such great performers as Al Jolson and Judy Garland to much more recently Elton John and Katy Perry. Make a stop on Hollywood Boulevard at the Chinese Theatre where you can get photos of yourself with the many handprints and footprints of your favorite Hollywood stars dating back nearly 100 years. Other landmarks include the Roosevelt Hotel, where the first Academy Awards were presented in 1929 and the Dolby Theatre, home of today's annual Academy Awards presentation.
If you're desperately waiting for a beautiful sightseeing trip to Los Angeles, come and join us. You will not be disappointed with our wide range of Los Angeles Tours.