With its many skyscrapers downtown LA is the geographical centre of Los Angeles and offers many key points of interest from L.A. Live, Union Station, Olivera Street, Angelino Heights and much more. Let me personalize a downtown tour that suits your interests!
Suggested Downtown Outings: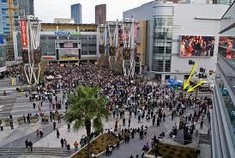 L.A. Live is home to some of the best Los Angeles attractions. This is a large entertainment complex adjacent to the Staples Center (home of the Los Angeles Kings and Los Angeles Lakers) hosting restaurants, bars, cinemas, concert theatres and a 54-story hotel and condominium tower. Included is the Grammy Museum – four floors with dozens of historical music artifacts spanning many genres and generations. Embedded on the sidewalks outside are bronze disks, similar to the Hollywood Walk of Fame, honoring each year's top winners – Record of the Year, Album of the Year, Song of the Year and Best New Artist.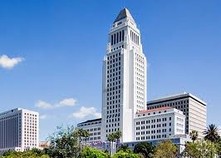 Los Angeles Civic Center – The largest concentration of government employees in the United States outside of Washington D.C. City Hall has appeared in numerous movie and television shows. It is also home to the Hall of Justice, Federal Courthouse, County Courthouse, Criminal Courts building and Los Angeles Police Department.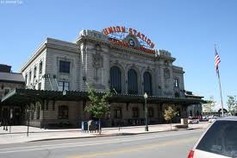 Union Station – the "Last of the Great Railway Stations" built in the United States. The magnificent history of this station sits adjacent to the site of the original Los Angeles settlement, where the famous Olvera Street is located today.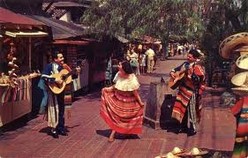 Olvera Street – This vibrant internationally renowned marketplace offers visitors a shopping and dining experience that reflects Mexican culture and traditions. There is real history hear including the oldest building in Los Angeles.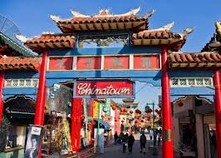 Chinatown – The first established Chinatown in America. Only a few shorts blocks up from Union Station, shoppers crowd the sidewalk while restaurants serve the best dim-sum and noodles.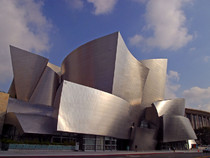 The Walt Disney Concert Hall – 111 South Grand Avenue. Home of the Los Angeles Philharmonic orchestra and the Los Angeles Master Chorale. The stunning architecture of this Frank Gehry-designed building opened on October 24, 2003.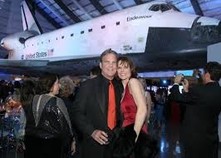 California Science Center – 700 Exposition Park Drive. Features hands-on interactive science exhibits and the Air and Space Gallery. The Space Shuttle Endeavour has found its permanent home here. There's also an IMAX movie theatre with free admission to all.

Angelino Heights – Founded in 1886, this is one of the oldest districts in Los Angeles. With its steep hills, this picturesque neighborhood has served as the backdrop for countless movies from the earliest days of cinema to the present. The area was planned as a respectable, genteel Victorian neighborhood for Los Angeles' late 19th century upper-middle class and still contains some of the best remaining examples of Victorian-era architectural styles as well as later examples of Craftsman and Mission Revival styles.