Beverly Hills offers many key points of interest from Rodeo Drive, The Beverly Hills Hotel and much more. Let us personalize a Beverly Hills tour that suits your interests.
Suggested Beverly Hills Outings:
Beverly Hills Hotel – Opened in 1912, two years before there was even a city of Beverly Hills, this world famous hotel opened its doors to some of the biggest stars of its time like Charlie Chaplin and Mary Pickford. Soon the Beverly Hills Hotel became increasingly popular with Hollywood celebrities as well as royalty alike. The hotel can tell 1000 different stories going back over 100 years.
Trousdale Estates – An area bought by Paul Trousdale in 1954 that saw him build 532 lots and went on to include celebrity residents Dean Martin and Elvis Presley.  Current residents include Ringo Starr and David Spade.  Today you can find mega mansions being built here with prices in excess of $100 million.
Rodeo Drive – This world famous street with its fashionable shops and boutiques is only three blocks long. It is here that the rich and famous do their shopping and where tourists window-shop while trying to spot a celebrity. This is a must for you Beverly Hills Tour.
Beverly Hills Sign – 
You've seen this sign before and you'll probably want a picture of it. Unlike sitting on one of those tour buses where you're unable to get off, we can stop wherever you like and let you out of the vehicle and take pictures. If you want, we'll snap a picture of you and send it to you afterward. We'll show you all there is to see in Beverly Hills and more.
Mulholland Drive – One of the most scenic and best known roads in the United States with some of the most expensive homes in the world. Home to stars like Jack Nicholson and Justin Timberlake. The road offers spectacular views of the Los Angeles basin and San Fernando Valley.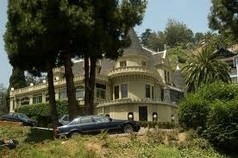 Stars' Homes– See where and how the stars live. Drive along Mulholland Drive, Benedict Canyon and Sunset Boulevard. Tom Cruise, Jack Nicholson, Halle Berry, Leonardo DiCaprio, Ringo Starr, Katy Perry, David Beckham and many others.
Hollywood Crime Scenes – Visit infamous places and crime scenes that will always hold their own history. Visit the site of the Manson family murders that shook the world in 1969. Bugsy Siegel's house in Beverly Hills where he was shot through his living room window in 1947. See where Nicole Simpson was murdered that led to OJ Simpson and "the trial of the century". Check out the hotel where John Belushi died in 1982 and just across the road the site where rising star River Phoenix collapsed and died outside The Viper Room.